( September 18, 2012 )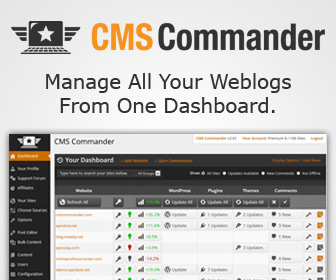 CMS Commander is a remote management software for WordPress, Drupal, Joomla and phpBB websites. Simply add all your websites to your CMS Commander account and then contrl them all through a secure SSL connection. Save lots of time by bulk managing your site network with all of CMS Commanders features: Install new plugins on all your websites simultaneously, automatically update plugins and themes when new versions are available, create automatic backups of all your sites, remotely manage user accounts, articles, comments and much more!
( May 24, 2011 )
Our selection of Renaissance Clothing and Accessories can take you to that period where wealth and power was everything and the King and Queen were at the top of the hierarchical order. It was the world's only civilization that recognized its people on the basis of the clothing they wore.
Highland Rags strives to be your number one source for historical clothing and costumes, including renaissance costumes and clothing, medieval armor and clothing, Viking costumes, and pirate costumes. Find excellent halloween costume ideas here. All of our clothes are made to medieval specifications and are meant to serve the historical community and renaissance fair attendees. Our renaissance dresses are especially popular at weddings and role-playing in general.
We offer the most beautiful and marvelous collection of medieval clothing and Renaissance jewelry.
We strive to offer Renaissance clothing that effortlessly transports you to a different time, whether you're donning a Renaissance Wedding Dress, or gowns and doublets fit for Queens and Kings. Our collection features Men's Renaissance Clothing, Women's Renaissance Clothing, and Children's Renaissance Clothing as well. We're certain you'll find something special in our shoppe for the whole family, and we thank you for stopping by!
|